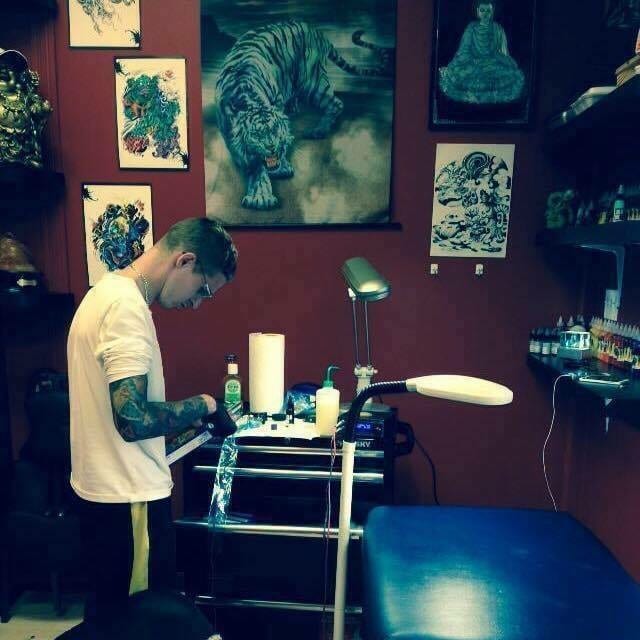 QUESTION FOR MATT L
1.Why did you start doing tat?
2.how long as you been doing it.?
3.were do you want to go with your art.?
4.your a family man right how does that hell you and your art?
5.let us know more about you?
6. do you work in a shop ,if so were at?
7.what your fav music to work too?
8.give us 4 artist that inspired you to do art
RESPONCE
1. I started tattooing because I always loved drawing as a child I used to watch certain Japanese anime shows and I would record the episode on my VCR and the play it back on the video machine and pause a scene that I would like weather it would be a full on Dragon ball Z battle or a still shot of a huge Gundam from the show Gundam Wing
2, I started tattooing a fairly young age but not as young as some of the artists that I look up to but I was 18-19 when I first got my first set of Coil machines I Slowly was learning my craft when I was hit with the news I had a extremely rare Severe type of cancer call a synovial sarcoma my change of living through this was 20% I had gone from 165 Ibs to 112 Ibs and was fighting for my life for the sake of my new Bourne daughter Leylah wishing that five years I beat it once and then had to repeat the surgery due to a complication where they had replaced my esophagus with a gastric pull up from my stomach the chance of living through this surgery was now almost none at 15% with my luck they did the sugary and found part of my upper right lung was dead from radiation so the took that to and the patched the remaining part of my lung with a back should muscle. After this was all done and I have been in remission for 5 years in 2015 I was able to slowly go back to what I love to do witch is put a beautiful pice of art and Taylor beautiful body suits to people who devote them self and put in the time and effort to push to the end. And that's brings us to where we are today !!
3. In the future my goals for my self are to continue to pay respect to all the tattoers that I look up to and the people who actually made the industry what it is today. Every day I try to advance myself and my art it will for ever be a learning experience knowledge is priceless and the day you stop learning I believe is the day your not around anymore.
4.Being a father of one beautiful daughter Leylah BELLA Langshaw who is now 8 years old this spring and a beautiful baby boy Lincoln Martin Langshaw who was just born on April 7 2017 keeps me a busy man. No matter what I do I always try my hardest to put my family first I would live by myself with no money homeless in a garbage can so my family and children can have what they want rather than have myself set and them not. Time is precious I do believe that a lot of people get upset and hate on other but at the end of the day you have the same 24hrs as I do what you do with it and the choice you make during your time and how much of certain things you are willing to sacrifice makes you who you are.
5. I believe in family and being the most loyal solid person that anyone can be. I believe in treating people they way you want to be treated, I believe in the circle of karma so don't do to others what you would not want to be done to yourself. A lot of this also applies in tattooing, there are some artists out there that will tattoo anything on anyone cause they are hungry don't care and need the money, problem is we are all hungry but,,,,. Your job is to advise your clients properly and help them understand what tattoo will last the test of time and will look good and most importantly fit on there body properly. If there is a tattoo or style of tattoo that I am unable to do or do not think is possible I will tell them the honest truth and help guide them to the proper approach and if I am unable to do a 1999.9999% bang on job at that style I have no problem point them into the right direction so that they can get the master pice that they want by someone who is fluent in that style, rather then just taking there money and doing a ok job, No they deserve a amazing Job.
6. I have a private studio south side and you are able to contact me by email directly at [email protected] or also by referral through previous clients friends or family. You also can check me out on Instagram at montatty_matty to check out a few pics of my style and what I like to tattoo. I specialize in tradition Japanese tattooing and irezumi. I frequently get asked the question about art applying in tattooing and I want to make it very clear to anyone that tattooing and drawing are two complete different animals. Being able to draw and fit your designs properly to someone and there body shape that is the art, but the tattooing application skill and what goes into know who to properly lay the pigment into someone's skin that is the craft. When you combine these two things together with the right energy between the client and artist you will get a masterpiece. A client can come in and wants a big pice and may feel a little nervous but I promise that after 5 sessions at 3-6 hrs a session you will know each other very well and form a bond with the people that you are putting your art on for ever. I am blessed to be able to do what I love and meet these amazing people and grow together as they go through there journey and different stages in life.
7. And 8/  As far as music goes I love and respect all types of music it is and art and a gift in itself to be able to hear that perfect rhythm and the perfect voice to match with that perfect song and then bring it all together for this one amazing master pice that's what is all about. I enjoy music as much as I live breathing it's something that gets me through the day every single second of every single minute that passes. I grew up listing to all genres of music from all different cultures so I can appreciate music from all cultures and time lines, far as I go I preferre to listen to hip home such as "Young jezzy" and "Jim jones" as my all time favourites and of corse I love the old classic rap by 2 PAC and Biggie I could just have music from these two rappers would be covered for life as far as hip hop rap goes. I also enjoy old rock from green day led zeppelin both who have made a huge impact on there two different side of rock. Trance and techno also has its Owen spot for me with classics like Benny Benassi, Darude and daft punk. When you bring all of these spectrums you have a perfect day In my life o and maybe add a lil Micheal Jackson as well lol that would be perfect !!!