Rod "Rod Damn" "The Rodfather" Rookers  | Promoter, Sound Guru, and Talent Booker (DV8 on the Level) | Sufferah  | Guitarist | Yeller | Lyricist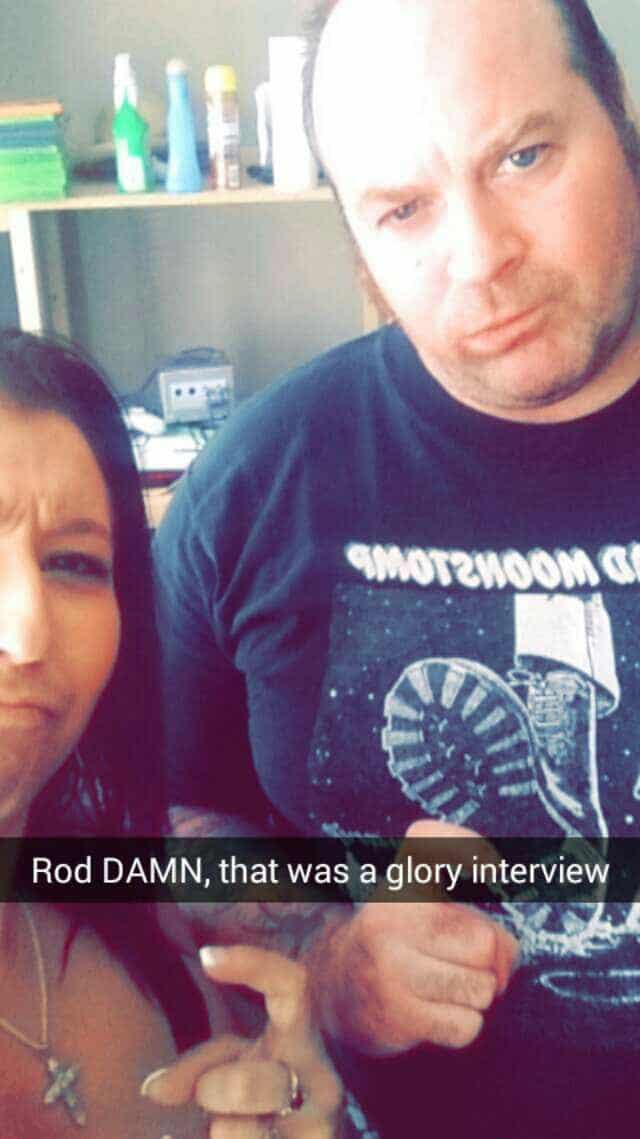 An Editor's note re: the Rodfather's T-Shirt: the Skinhead Reggae Symarip emblazoned the front of Rod's shirt, and you can see his explanation below. 
If you're now extra curious, check out the video below. Rod says it's the best, and I trust his judgement on these matters.
How long have you been making music?
My first band was in '92, when I was sixteen. It was called "7 Cents Short," it was right when the GST first came into effect [laughs]. I've been in my band, Kroovy Rookers since 2004. Twenty four years, man.
What's your favorite food?
Asian food. I cook lots, I get on YouTube kicks. Any kind of Chinese, Korean, or Vietnamese. Anything you can eat with chopsticks
What's your favorite city?
Boston, Massachusetts. I lived there for 4 years, so I know it's pretty much awesome
Who's your favorite artist of all time?
Bob Dylan. When he was good, he was good – if you like writing lyrics and sh*t, it all made sense and rhymed, so… [Laughs]
What musical trend would you like to see end right now and never, ever come back?
Whatever Hipsters listen to [laughs] it's such a weird scene. You know what punk kids and hip hop kids and Juggalos are into, but hipsters…it's like, undefined bullsh*t. Also, Power Violence – which, by the way, is hipster garbage
What's been your favorite collaboration to take part in so far?
My band, Kroovy Rookers
Who are three artists you would you like to work with in the future?
Cocksparrer, the Dwarves, and the Templars
What made you want to be a musician?
I have a buddy who uh, he was in a band called the Subway Thugs. He wrote a song on his couch and then recorded it a few months after, and I was like, "sh*t, that's awesome". Music in general, I just wanna be a part of it, y'know? Wanting to contribute to the sh*t you like
What's the advice you'd give to somebody who wants to follow in your footsteps?
No guarantees [laughs] there's no guarantees
How long does it take you to write a song, on average?
Some of it, 5 minutes. Some took a while to get the lyrics together. But, I mean, when you're on a roll keep rollin'
What's the hardest thing about your job?
Trying to get people interested in sh*t

What inspires you, in general?
Lyrics
What's your favorite color?
Blue
What other styles of music inspire you?
Punk, hip hop, reggae, ska, rockabilly, psychobilly, all that sh*t
What are three artists you've got bumpin' right now?
Wisdom [laughs] don't put that down. Mostly lyrics
Are there any myths about the industry you'd like to dispel?
Uh, you can do your thing, but you can't reinvent the wheel
Is we finish, or is we done?
We done [laughs]. Son
What do you have coming up that we can all look forward to?
Months of different sh*t every weekend. Hopefully years [laughs] (check it out here)
What, to you, is 'Living the Dream?'
Touring around the world, the UK in particular. Even just a UK tour. That's the dream
 Any shoutouts?
Tuff House, Future Is Grim, Green Heist, all those dudes. Everybody that's been supporting the club from the hip hop scene.; Stompdown, BaxWar, all that sh*t – you're all great. Shoutout to Jodie Donovan, there would be no DV8 without her, it was her bar when we met 7 years ago.
Bonus Question: With the legalization of marijuana at the helm of North American politics, what do you have to say about legalization vs. decriminalization, and the war on drugs, in general?
Me? [laughs] I don't smoke weed anymore, so I don't care [laughs]. I'm apolitical
Bonus Question #2: What is your opinion on how best to handle the recent wave of racial intolerance, violence, and injustice that has been on the rise in North America? Do you feel that as a hip hop artist, you have any responsibilities in this regard? Why or why not?
Education, if you don't study, you don't learn – that's all I'm gonna sa