A few weeks ago I had the pleasure of sitting down to interview one of my all time favorite people & the main man behind Tuffhouse records, Mr. Havana Green. A man of many talents & exceptionally impressive stories. Hilarious & motivating. "Rest" or "Quit" are two words you won't find in this gentleman's vocabulary. In this exclusive interview we discussed the blood sweat & tears that came to be Tuffhouse records, along with a few other fun & intimate tales and Q & A. So crack a 40, or pour a cup of tea and enjoy this informative interview with an outstanding, creative and charismatic personality. We & myself, Sabrina Van Cleave, would like to share with you this one on one with Havana, on behalf  of TUFFURBAN Magazine. Cheers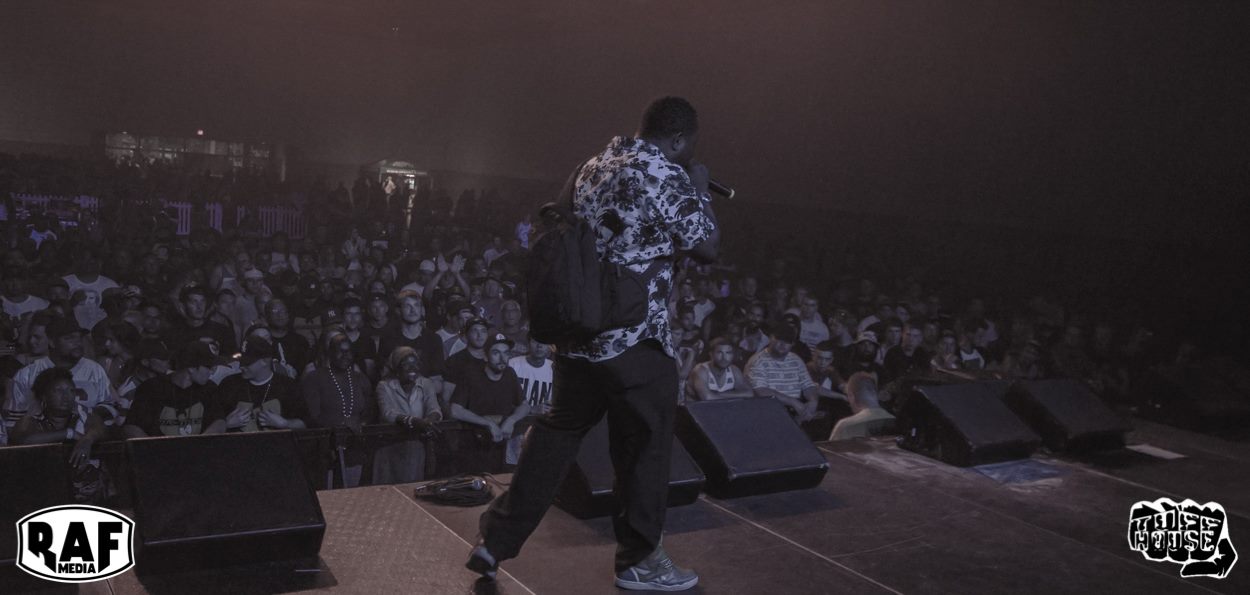 Sabrina: What is Tuffhouse?:
Havana: Tuffhouse is Alberta's largest independent music label. We are also Alberta's largest & longest running Urban Music label.
Sabrina: Who is Havana Green?:
Havana: My full name is "Havana George Green". Who I am, what I do, well I like to call myself the "Ghost in the machine". I do a lot of things not just representing my own artists, but I also do a lot of things to represent the music label and the Urban artists in Alberta , Western Canada & Canada in general. I sit on few different panels, I work with a few different companies. I also help to develop artists, because that's one of the main things that we need in order to pursue greater things, creativity wise. These are things I end up doing & basically that's why I have been in the business for going on now 19 years strong.
Sabrina: What have your life experiences taught you, that you have applied to the way that you run your label?:
Havana: The life experiences that I've gone through have taught me about patience, time & basically loyalty. Within the business of music, or the business of art it's about loyalty to the people you work with, it's also about creativity in a sense that if you're making music or albums, it's a must that you stay creative, relevant and ready to invest time, money & capability into the art. In my life, my personal journey I've seen a lot of people come and I've seen a lot of people go. Basically we're here and we're gonna keep educating'.
Sabrina: Tell us a little bit about how you got started in the Music & Entertainment industry?
Havana: Well I got started as a singer originally. I was very young. My mom was a singer, still is. She's a gospel singer. My Grand-Pappy was also involved in the music thing. So I started at 5 years old, singing. Through my life I took that up a notch, because music always helped to clarify things with me. Art always spoke to me on a wider scale. As an artist and as someone that wanted to continue to pursue things, I wanted to do something for Edmonton & Canada and basically at the end of the day, my province. We saw that there were a lot of great artists but there was no output for them, there was nothing for them. And you know I've always been the one to have great house parties. So we had people comin' from all over. So I started the company from my momma's basement, which was Government housing in Duggan. The goal that I had, one of the first artists that I signed was "Reason", we released "Letters & paper", after "The Ways" first LP. (As an MC I go by "The Ways"). The ways of men, that's where that came from. So we got going with it. The label itself got started when I was 14 years old, due to the fact that there was nothing here for us & people already looked up to me. I was considered a young old man in a sense that my maturity level was very high until this day people think I'm older than what I am, just because I carry myself in such ways. I've always been a man for the people & finding ways to increase the value of people.
Sabrina: So How did you get your label off the ground? (Let's say out of your momma's basement). And looking back, what would you say was the single best decision you made when setting up the business?
Havana: How I got it off the ground… on a realistic scale, because I was working. So I was like Ok I'm busting' my ass off & I don't really want to do the job I have to do. How do I do the job I want to do? and enjoy it, entertain it & stuff like that. How do I help to create something? I took the time to save up and I was like I'm young and I got myself a bit of cash, & I got a credit card. So I had a credit card. After getting the credit card, I screwed myself in a sense. The first number of copies of CD's that we printed was about 350. But my neighborhood would always have my back. So we sold those and I flipped it. So we went from that to the next set of 1000 and I flipped that. Bit by bit I would save and we would still replenish the supply of CD's. We did a couple different shows, and gradually, I had funds, to do a couple things that needed to be done. So we did it, it was never just my dream. I always had at least 20 different guys with me, that were all in. Basically they just wanted to do it with me because they believed in what I wanted & they believed in what they wanted & they knew that anything I set my mind to I always get to it. Whether it's today or tomorrow but we always do. So that was the first step in getting it off the ground. My best decision that I ever made in the music business, (there are so many) but I'd have to say it was making the trip out to Vancouver to do MTV Canada, we also at that time went to the "The Beat". The Beat got a hold of "Reason-Letters and paper", and that was one of our first mainstream radio plays. When I got back to Edmonton they were playing it and they put it in a continuous rotation. Calgary also played it on their mainstream. So we became the independent guys that got played continuously across Western Canada. Also I was the first, and until this day one of the only, independent label head artists that made it onto the Bounce radio for interview. So it was a huge thing.
Sabrina: What could great sound recording do for an artist's career?:
Havana: It could take them out of the toilet and put them upstairs in a bed. That's what it could do. The first step in great recording, artists have to basically be prepared to sacrifice their pride. In order for any artist to get to where they need to go and get there properly, they have to put there ego aside and at the same time invest in themselves & working with other artists. Your ears are hearing things one way when you're listening to a track. If you're in a basement doing' it on your own and your just like "Alright this is the shit", that's just you speaking on that. It's an important part of working with others, because when others come in and suggest that this could be a little bit better, this could go here, this could go there. You have to step outside of your comfort zone and expand in. That's why the greatest artists around, whether it's producers, whether its performers, they always have more than one different person they work with. You can work within the sound system or you cannot. I think that's the problem with a lot of local/independent artists, they think very local & if you think very local, you're not going to go anywhere. You'll get trapped in a local cycle.
Sabrina: What sort of musicians are you working with?
Havana: I'm working with the finest musicians you can find, whether it's live musicians or just those on the label. Everybody has at least two different things that they can do. Whether it's produce, whether it's create, whether it's write, whether it's DJ, whether it's promote. You have to be able to do more than one thing, you have to be willing to give it all. I have some of the greatest artists, and I can use that term "great" because I will promise you these things. When the albums are released by these artists it's going to change a lot of things. The quality, the creativity, the mindset & just the development of the artist to become greater artists, to understand the artistic value of music. Let's face it we are in an uphill battle, due to the fact that, this is Edmonton. In Edmonton and in Alberta there's a lot of negativity towards Hip-Hop, towards Urban Music. WE already kicked in the door along time ago and now we're changing the mindset of people. So that people are aware and proud of what we're doing.
Sabrina: What does your motto/album title "Don't bet against the house" mean to you? And what's in the name Tuffhouse?
Havana: "Don't bet against the house" first and foremost…is a Double edged sword. When we say "Don't bet against the house" most people think we're just strictly talking about Tuffhouse, but Tuffhouse is a fist. Together we're strong. So that's a warning shot to a lot of people…don't ever think that we're not on top when you see us just chillin', cuz we're smarter than the average bear. The second meaning is basically a statement for the people. When you go to the bible, or you go to the Karan, you go to the Maccabees, or all these religious sectors. One of the main things it teaches is "Your body is your temple", your body is your house. So when people try to doubt you and say that you cannot achieve great things, then they're betting against the house. That's where that came from. I've seen so many people that doubt, overcome that doubt. Me I'm one of them also. I always like to prove people wrong, it's part of my genetics, to continue to push forward and show them what it is. And that's why we chose "Don't bet against the house".
Sabrina: What would you say your most memorable moment at Tuffhouse would be?:
Havana: At the label, I would say the most memorable moment would be when we brought in the Wu-Tang Clan. Right…we did something that only people dreamt of, we did something that people said could never be done. Us, a bunch of Ragga-muffin youths. We did it, and to this day it's never going to be duplicated. Other people had already tried and it didn't go, I don't wanna brag and boast about it, but we brought the Wu-Tang Clan, for the 20 year anniversary of one of the most iconic Hip Hop Albums from the Golden Era of Hip Hop. So to have all of them here, except for 2 members. I'm talking about Eleven MC's, & DJ's on stage rocking' it out. The only thing that could have stopped it would be if the great father came down from above. We went to the top of the mountain and looked out and saw people smiling from all over. People came from all over for the show, even people who doubted the show was gonna happen, dropped their bags and came. Because the thing again is, when you doubt us, we overcome it. That is "Don't bet against the house", I love that. There are so many memories that we have over 19 years, good, bad, sad. People cried, people left. Artists have felt they were going to go do better things elsewhere and came back. I dunno what is. That's their prerogative, that's life.
Sabrina: Can you tell us a little bit about the Cut Hip Hop awards coming up this fall?:
Havana: The Cut Hip Hop Awards, well I'm one of the directors for it. It's basically Canada's first all out Urban Music awards. It's in it's early stages, it's in it's second year now. First year it was in Winnipeg, and this year it's going to be here in Edmonton. Next year we're shooting for Toronto. The great thing about it is we're now recognizing our peers and giving them the respect & trust that they strongly deserve. We're going to fight for our peers to get respected, because every other genre in this great Nation of ours has always been respected in the music scene, you have the Country music awards, the Rock music awards, the Pop and everything else. But there has been no Urban music awards, as if we don't exsist. But we have been here, we've been in the system laying the groundwork for a long time. It's only respective & fair now that we get our own. We're not begging anybody either, we're doing it the hip hop way by creating this on our own.
Sabrina: If there was a movie produced about your life, who would play you and why?
Havana: If there was a movie produced about my life I would say, I would play me. Because only me can play me. But other than that I would say my son. Because he identically looks like me, his demeanor is like mine. Everything thing about him is directly like me, so it'd be him.
Sabrina: If you were stranded on an Island and you could only bring 3 things what would you bring?
Havana: I would bring food, water & basically some good music.
Sabrina: What's your least favorite thing about humanity?:
Havana: My least favorite thing about humanity is humanity giving up on themselves.
Sabrina: Do you believe in Bigfoot?:
Havana: Yes he does exsist
Sabrina: Have you ever been on a boat?
Havana: Yep, I am from the banana boat, you know what I'm saying. I've been on quite a few boats in my time, little boats, big boats, yachts. That's the way that it is I'm from the Islands.
Sabrina: What's the craziest thing to happen to you lately?
Havana: Lately? I saved a life. I saved a female, her car flipped and it was like a movie. I hopped out of my vehicle, ran to her car and pulled her out of the car while it was smoking '.She wasn't really sure what the hell happened. But it's just all in a days work.
Sabrina: Favorite Cuisine?
Havana: Pussy.
Sabrina: Who are some of the artists that you've worked with:
Havana: I've worked with a vast amount of artists over the years. I've worked with the likes of the legendary Fat Joe, again the legendary Wu-Tang Clan, French Montana, Kid Kid, Dj Who Kid, Waka Flocka Flame. Some of the Canadian acts such as Peter Jackson, G Wonder, that's out east. I've worked with my man that produces School Boy Q's tracks, Lord Quest, we've done quite a few things. Dead Prez, Cash Bradshaw, he's based in Cali right now. There are so many different artists that I'm thankful for, because the more we work with them, the more we get to gel with their tecniques. Those are few of the cats, I could go on for days though. DJ Drama, Ace Hood , so many.
Sabrina: Can you name a few artists that you'd like to work with in Future?
Havana: One of my favorite artists of all time that I would love to work with and collaborate with at some point before he kicks the bucket is Esco…Naz. That's one of my guys that definitely I want to work with. The next cat is Ice Cube, then my man Tech Nine. Those are some of the older "Jugganaughts", I call them, that I'd definitely be down to work with, on the hip hop side of things. On the younger side, you know J-Rock from TDE, also Kendrick would be cool, then we got Hit boy and the whole Hit boy squad they my peeps. Me & my man True 2 Life. Just some real cats that's been on it you know what I'm sayin'. The Party next door is cool people, Classified it's a must at some point, we'll cross paths and get things done. Again as I say there's just so much different talent that I wanna work with, that I could never box it in, you know what I mean. French is cool people I would work with French on some things. Rose, we're already on the path of doing that, so it's a blessing you know.
Sabrina: What do you think of the Edmonton Music Scene?
Havana: The Edmonton music scene in general, basically…has to step up it's game. The reason why I say this is, you have about 200 artists, and then there's only about 4 venues. A lot of the venues are scared of Hip Hop & they don't support it, you go out of your way to create something then they just go up against it. But, they'll play hip hop in their clubs. For that, it's a penalization & we're not standing for that, we ain't kids no more, we understand the business. The music scene overall here, they need to get the point and understand that it's music. Whether you do rock, hip hop, country, pop, grass roots, anything to do with music is one big family. You gotta look at it like you're in one house and in each room are the kids, each kid is doing something different it's what makes the family unique. Not everybody is the same, but we come together in the hallway at the end of the day, or in the kitchen to eat. That's we as Edmontonians and Albertans (Alberta pride all day) have to come through and get that. It's about us. And we have to learn to help support each other & promote each other and give us that respect.
Sabrina: Do you have any funny/crazy Road trip stories?;
Havana: Oh I've got a lot. Should I tell you about the one where I crashed in the mountains while coming back from our first tour? That one was crazy man. Our first tour that we ever did, as young kids, I had no f*cking clue what the hell we were doing. All I knew was the good lord said "Hey get in that damn vehicle, you're driving it to Toronto". So we stopped in every city, we sold CD's, we slept in this SUV. Again we had no clue, but one thing we had was each other and it was just a fun time. Mike, one the guys that came with us, he was so adament about the whole thing and once reality hit, we got to Lethbridge and the guy starts crying & calling his mom & ended up taking a flight back. It was the funniest thing ever. So it was just me and a couple of my youngstas & my cousins. These guys were all about a year or two behind me. So we all just rode out, it was very historical. We were driving so fast, the car was shaking, and you know cuz you have to go around that damn lake right. So we thought as soon as we get to Ontario we were gonna get to Toronto, but it was such a massive drive even the Ontario Police stopped me. And said "You know we could cut your liscense up" and I was like "why I'm late for such and such". So he gave me a ticket. I still remember it was a $550.00 ticket. I had this 8 seater SUV packed with stuff, we get to Toronto, met up with my cousin & we kick it and meet up with my other cousin, they're playing basketball against one of the artists we brought out there. These guys were the slowest basketball players in the world like molasses slow. We got it done & we sold quite a bit of units from Winnepeg all the way through. Sometimes we'd sleep in motels, sometimes we'd sleep in the car. Then it was time to come back. We made it all the way past Thunder bay & I'm feeling blessed because I'm like alright we're doin' this you know. And at this point my shirt's off, my drawers is wet, sweating cuz it's hot as f*cking hell. We pull up at some little town and ask some guy "hey where can we watch sports and stuff like that?" and the guy goes "We don't watch Sports and TV around here all we do is Fish". So I'm like "What Fish? The F*ck are you talking about". So I kept on gunning it I was outta there. We got to this one spot and as Im turning into the parking lot, and while I'm turning in there's an RV coming out and it basically cut me off, two of my wheels went on the bridge and two of my wheels went into the air & the SUV just fell right over into the ditch. Everything written off, crash, pow. So we're stuck now, luckily where we were, we were right close to the greyhound. So we went and hopped the bus, got the greyhound, it ran us to Winnepeg. While I'm in Winnepeg I holla at a homie, to get some of the radio sh*t done, we wait at the radio station get that done hop back on a bus, and then the bus f*ckin' breaks down. The bus breaks down we're in the middle of nowhere now, and we have to wait for the next bus. It's so hot out we're walking, it's the middle of summer. We hop on the next bus, drove on that bus to medicine hat but just before medicine hat THAT bus broke down. So we're like "We gotta get some 40's sh*t gonna get real". It was so unreal and crazy in a sense that it just blew my mind. So we're heading through a few different places bus needs maintenance in Calgary. AS we're sitting in Calgary we meet a girl who's going North to B.C to pick magic mushrooms. So we're like "Aight that's some gangsta shit" sitting around sippin 40's. And that's where the idea for "the Outbreak" came to. "The Outbreak" was the third album we released. It was a special album, when we dropped that album different MC's were showcasing different things. Then also "The Cure" the blue & white album. It was one hell of a f*ckin trip. I have a shitload of those stories man. Once we hit a deer that was already dead, and we literally flew in the air.
Sabrina: What's the craziest this a fan has done for or to you?
Havanna: I've seen quite a few kids around the world. But really the support that's really it, without them we wouldn't really be here. Just them buying the units and coming out and having a good time. A fan actually got me pissed drunk outta my head, and I woke up at my cousins house.
Sabrina: 3 Favorite Songs & 3 Favorite artsists?:
Havanna: "Blackberry Molasses", a lot people won't know what that is, it's a song by Mista, a group out of Atl. Bobby Valentino was the lead singer. "In due time" by Outkast, "Thug Holiday" by Trick Daddy is one of them tracks that got me bumpin'. Three top favorite hip hop artists of all time. First and foremost the whole Dungeon family, Then you got the mof*ckers from up top, the spitters, Esco and all them. I came from the era of Tim boots and all that, Noreaga. My favorite of all time?…. Scarface man Scarface that's my man. Face has been in the game so long he never stops and he ain't scared to speak whats real. If I were to go way back and mention the musicians that I respect and that are dead I could go all the way back to Beethoven.