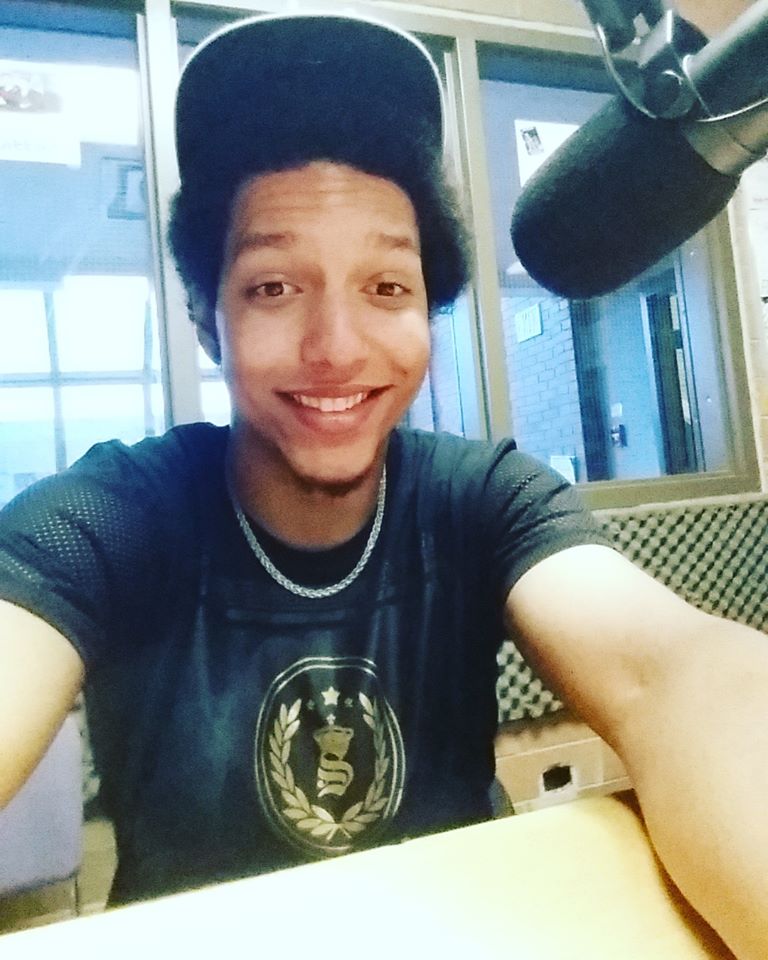 Demico Hopkins, a.k.a "Lil' Meecs" is a young up and coming Hip Hop artist coming out of Edmonton AB. It's not hard to see how this guitarist turned rapper discovered his voice. His Hip Hop artist father opened up for Ice Cube back in the day. Coming from a half black home, Meecs strongly supports mixed racial rights and racial diversity, making it one of the main messages in his music. Meecs has also performed at the national awards show , the CUT Hip Hop awards this past September. Tuffhouse had the opportunity to speak with the always energetic Meecs in between his vigorous recording sessions to do a little Q & A. Enjoy…. Lil' Meecs' unique star promises to not be so lil' in the near future!
What's your name, age, occupation and/or art form?
Meecs: Demico Hopkins, age 21. I am currently a bartender. I am also a musician,guitarist & rapper..
Where are you from?
Meecs: I was Born in St. Albert & raised in Edmonton.
How long have you been doing music?
Meecs: All my life, I've been doing shows for 4 years.
What inspired you to get into music?
Meecs: My dad is a rapper, he actually opened up for Ice cube. I was always around music so I grew up around it.
Who are some of your role models?
Meecs: My mom, My dad, Tupac Shakur, Childish Gambino.
What inpires your music?
Meecs: A deep down struggle that I always felt different. For me its about acceptance and that difference is good.
How can fans gain access to your music?
Meecs: My Facebook page 'Meecs' & on Soundcloud 'lilmeecsfamilyb'.
How do you feel about the Edmonton Music scene?
Meecs: I like how its something you have to find. When you find the right venues, it's nice to see how everybody comes together.
What's your least favorite thing about humanity?
Meecs: Ignorance 100%.
What's the most challenging thing about being and artist and how do you overcome it?
Meecs: Procrastination, I've yet to overcome it. The biggest thing is having the passion to make what I want to happen, happen.
You mentioned you're very passionate about fighting for duality in your music can you tell us more about that?
Yes, I come from a half black family. The thing I try to do with my music is fight for duality. Who's to say that we arent the next leaders?
What's craziest thing to happen to you at a show?
Meecs: Two people I was working with got into a fight, I was left to chose between the two, I didn't pick a side.
If you were a cartoon character who would you be?
Meecs: Goku. Because no matter what crazy fight he gets into he always finds a way to win the fight. Him or The Flash.
If you were given a million dollars to launch your best entrepreneurial idea, what would it be?
Meecs: I would make a music company and take everyone's musical passions and put them where they'd want to be.
Do you have any other talents?
Meecs: Singing, I'm a pretty decent comedian, having a positive attitude.
Most memeorable moment as an artist?
Meecs: The first time I ever rapped, someone challenged me and I was a guitarist. I had no idea what to do and somehow I pulled through, I rap battled him entirely on perception.
Are you interested in collaboarting with any one ?
Meecs:  Anyone anytime as long long as they have passion.
Is there any advice you would give to someone just starting out as an artist?
Meecs: Take it step by step and you never know where you're gonna be.
Whats your fave song right now?
Meecs: 'Do for Love' Tupac
When & where is your next performance?
Meecs: Jan 20th and 27th at the Needle VYNL Tavern in Edmonton.
Any Shoutouts?
Meecs: Havana Green at Tuffhouse studios, my Mom and Dad, Leloc.