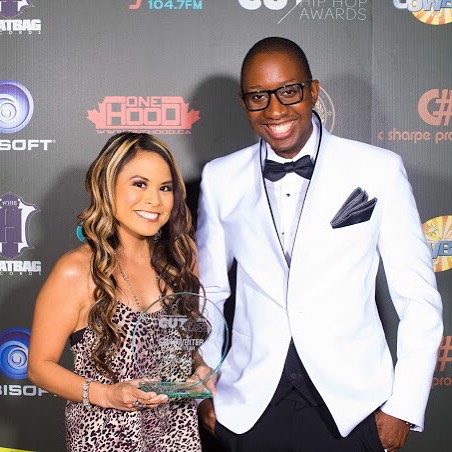 Chris Sharpe is a Producer & the founder of the Canadian Urban Television Network. He's the man behind the recent and ever growing CUT HIP HOP AWARDS and CUT CONNEX convention. He is an extremely dedicated man of vision and passion for Canadian Hip Hop and artists of all kinds uniting, and celebrating Canadian Talent. He has created a monumental movement and event which has increased the recognition of Hip Hop all over Canada & brought together artists and fans. The Television network can be viewed online from all over the world. Tuffhouse enjoyed meeting Chris and his crew at the recent Awards held right here in Edmonton in September at the Winspeare Center. We consider him a Canadian music legend, a pioneer if you will in the industry. Chris took a little time out of his very busy schedule to chat with TuffUrban.
*What is your name, age and occupation?
Chris: Chris Sharpe, 37 and CEO of Canadian Urban Television
*Where are you from?
Chris: I am from London Ontario
*How long have you been in the music industry for? Where did you begin?
Chris: From the age of 14 I have been working with artists and doing events
*What made you want to get into production & music?
Chris: Listening to FunkMaster Flex and Michael Jackson inspired me to get into the music industry.
*Tell us about the CUT Connex & CUT Hip Hop awards. How did they come to be?
Chris: Me and my team where developing the TV side of Canadian Urban Television and wanted to create an event that could bring people and artists together so we created the CUT HIP HOP AWARDS and CUT CONNEX Urban music convention.
*What's the most challenging scenario you've faced in this industry & how did you overcome it?
Chris: Funding is very hard to get from sponsors and grants and we got a very small amount. So we just funded the project on our own. We believe in the project so much we made it happen.
*How & who can get involved in the awards?
Chris: The awards are for up & coming artists as well as fans and family plus music superstars. We want to celebrate urban culture with the world.*
*What is your vision for the future of CUT?
Chris: The future is a online TV channel that has worldwide reach. We want viewers to be inspired to live their dreams!
*What do you like best about being a Canadian?
Chris: The diversity and weather.
*What is your philosophy towards your work?
Chris: Never give up and share, connect, grow and respect.
*What's your least favorite thing about humanity?
Chris: Not enough focus on togetherness.
*If you could have one superpower what would it be?
Chris: I wouldn't want a super power.
*What's the craziest thing to happen to you lately?
Chris: Watching the awards winners win awards at the CUT HIP HOP AWARDS and seeing the passion and hard work they put into their music.
*What's one rule every businessman should live by?
Chris: Imagination!
*Who are your Top 3 favorite artists or bands?
Chris: Michael Jackson,Biggie Smalls,Drake.8
What is your favorite song?
Chris: I have so many but right now Drake – Take Care Feat: Rihanna
*Do you dance?
Chris: Yes with the right beats on or record.
*If there were a movie written about your life what would it be called and who would act in it?
Chris: The movie would be call: "a moment in time" Steve Urkel real name: Jaleel White.
*Is there anyone you're dying to work with?
Chris; So many but would love to work with: P Diddy
*What's your favorite food?
Chris: Indian Food
*What's your favorite drink?
Chris: Water
*Favorite Canadian town or city?
Chris: Toronto
*What's your most memorable moment in the history of the awards
Chris: Honouring Choclair at the CUT HIP HOP AWARDS 2016 in Edmonton.
*Batman or Superman?
Chris: Batman
*Biggie or Pac?
Chris: Biggie
*You buy yaght what do you name it?
Chris: C Sharpe
*How do you feel about the Edmonton music scene?
Chris: Its so strong and full of talent and look forward to coming back!
*Any shout outs?
Chris: Shout of to my CUT co-founder Jon C, Shea Malcolmson, Havana Green, Habe, DJ Spray, Tuffhouse Records Team, 32 Street Entertainment, All of Edmonton music scene, Maximum FM Team, Choclair, The Canadian urban music scene, My Family and everyone one who helped make the CUT CONNEX & CUT HIP HOP AWARDS 2016 weekend happen ONE LOVE!