Dancehall music originated in Jamaica, and is characterized by its boisterous, fun sound. It hit a peak in popularity in the United States and Canada around 2005, when artists such as Elephant Man, Sean Paul, and Wayne Wonder were holding down the Billboard charts with hit after hit after hit. Though it has since seen somewhat of a recession in popularity, the rhythms and overall feel keep it consistently relevant and well-represented across the North American club music scene.
I love dancehall music because I love to dance – it is as simple as that. My cultural heritage is not Jamaican; however, us Brazilians also relish in gathering together with good music, good people, and good vibes. It goes deeper than the desire to just go out and get wasted; rather, the true value in dancehall lies in the capacity for us within our communities to truly let go of our stresses for a while and to celebrate another day that we're all here on Earth living our lives, regardless of what our problems may be. It's a concept that is understood differently when put into the context of poverty, political conflict, and social injustice as it exists in countries like Jamaica (and Brazil).
On Thursday, June 9th, 2016, I had the privilege of seeing Elephant Man perform a show at Tribute Lounge on Whyte Avenue in Edmonton, Alberta. If you haven't checked out Tribute yet, I highly recommend it. The  venue has a ton of character, and a pretty impressive lights and pyrotechnics system. Following the show, I had the chance to chat with Elephant Man about food, performing, and everything in between.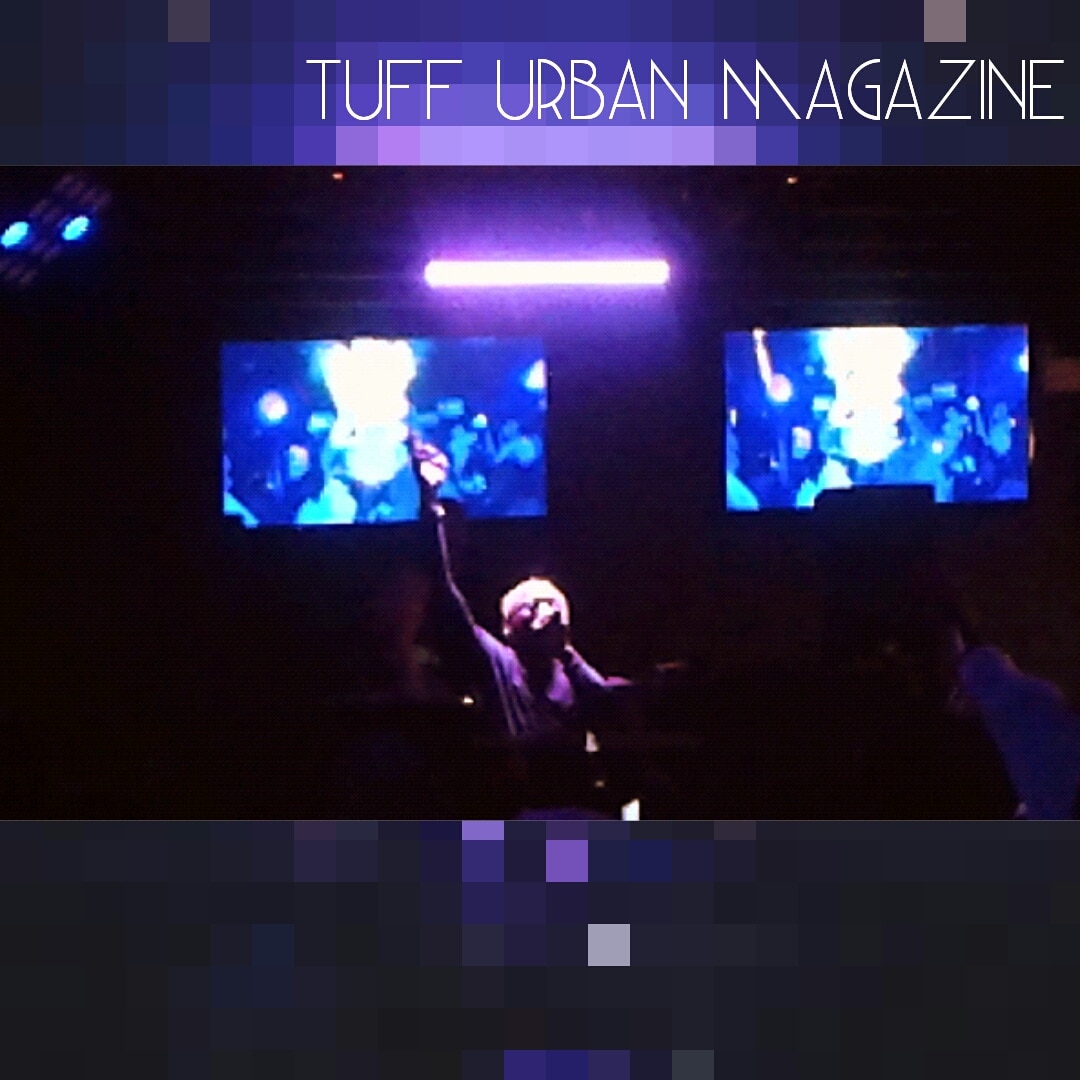 Hip Hop Hedonist (HHH): I'll keep this really simple. I have [a few] questions for you that I will voice record now and type out later, if that's okay with you.
Elephant Man (EM): [nods]
(HHH): Alright. Let's start out with what you'd consider your job title to be?
(EM): Well, my job title is straight entertainment. Entertainer, yeah.
(HHH): How long have you been in the industry?
(EM): A good while, like, about fifteen years.
(HHH): What's your favorite food?
(EM): I got a couple, like steamed fish and rice, curry chicken and rice, curry goat and rice…yeah.
(HHH): Okay, what's your favorite place in the whole world?
(EM): Jamaica
(HHH): Anywhere particular in Jamaica?
(EM): Negril
(HHH): I hear it's absolutely beautiful there. Your favorite artist of all time? If you could only listen to one artist for the rest of your life, who would it be?
(EM): Michael Jackson!
(HHH): Mikey! [Laughs]
(EM): Yeah! The boss! [Giggles]
(HHH): Okay, what's the best collaboration you've done over the years? I'm partial to that Hussein Bolt dance when he got the Gold medal.
(EM): That was great, but one of the best ones I would say is, me, Little Jon, Busta Rhymes, Ying Yang Twins…[sings] Bada dum dum dum, dum da dum da da da dum
(HHH): YAAAS. That's one of my favorites too. [Laughs] Who would you like to collaborate with in the future?
(EM): Michael Jackson.
(HHH): Michael. We'll bring him back just for you!
(EM): [Laughs] I did it with everybody already, so…
(HHH): Hologram Michael just for you in the near future.
(EM): Yeah. Michael.
(HHH): Who's your biggest musical influence? Michael Jackson?
(EM): [Nods and laughs]
(HHH): Why did you decide to be a musician?
(EM): Well, I didn't decide it. The Lord chose me to. It was a decision from above.
(HHH): Just that right path hey?
(EM):  Yeah, absolutely.
(HHH): How do you like Edmonton? I know you've been here before, so what's your favourite thing about Edmonton?
(EM): Well, the people are down for the dancehall. They love reggae music, they love dancehall. If  you love reggae music, I'm down with you.
(HHH): What other styles of music inspire you?
(EM): Well, I love R&B, I like hip hop, I like reggae, I like that Europe thing you know?
(HHH): That UK grime?
(EM): That [sings] I got a feelin'…
(HHH): What do you love the most about dancehall?
(EM): The riddem. The hardcore dancehall riddems. The beats, like [sings] budum, budum, bu du du dum… or, if not the end you gonna hear [sings] do do do do dudum when they hear the [sings] do do do du do do do du do do do dodu dum, that's definitely the end. The flim thing, you know? They can't just drop to the riddem theyself.
(HHH): What's the best part of your job?
(EM): Performing.
(HHH) And the worst?
(EM): Not performing.
(HHH): What's been the highlight of your career so far? If you had to choose one best moment, what would it be?
(EM): I got a lot, but Elephant and Janet Jackson at the BET awards.
(HHH): What is she like, if you can tell me briefly?
(EM): She is the best. She is the best. She down to earth, she cool, you know. She's the realest.
(HHH): What are you listening to right now? What's on your iPod?
(EM): Right now? I'm listening to [sings] This sh*t is way too high we need to cut it…[laughs] That sh*t's my joint right now.
(HHH): If you weren't a musician, what would you be doing?
(EM): If I wasn't a musician, I would be a promoter den or something. Definitely something in music.
(HHH): What do you like to do in your spare time?
(EM): Like, you know. Enjoy myself. Swim, drink, party, champagne, play ball. Play with my dogs. Swim. Enjoy my house.
(HHH): What kind of dogs do you have?
(EM): I have like eighty dogs. I got a lot.
(HHH) How has the industry changed since you started in it?
(EM): Well it changed many time, like music, if you noticed, the dancehall, it's like, it's like..there is not anymore a number one dancehall. Go back a few years and you have de big dancehall song on de charts.
(HHH): Definitely, there's no TOK on the charts anymore.
(EM): Longtime. None of those dancehall giants. Music is just dere. It's just.. dere no more of dem chart stoppers. No going numba one ting in Canada or in de States.
(HHH): Yeah, I see what you're saying. I was very much a fan of the Puma collaboration you did during the 2004 Olympics.
(EM): So, so those are de tings that like, if you go somewhere and you cannot watch de big songs in de dancehall now, dats what I am talking about.
(HHH): So, what's your advice for youngbloods in the industry?
(EM): My advice for dem is just to keep honest. Y'know, pray to de almighty. Keep it real, stay far from drugs, believe in yourself, keep on doing what you gon do, do what you do best, and just…you know. Do de music and don't forget what's important.
(HHH): What is your greatest success? What would be the most successful moment of your career? The most proud moment for you as Elephant Man?
(EM): The most proud moment is when I win my case the other day and I got my visa. When I win my case, and I got my visa I was like, ' Lord, we don't have to show me dat..we don't have to do nothing more to know mi real.' I can't tell everybody, dey ain't gonna believe me, but I know dat the Lord is real. For me, winning my case was one of the proudest moments of mi entire life, and for right now, I'm just staying away from bullsh*t right now. I'm just staying on de positive side, y'know? 'Cause, like, we didn't have to be here do this interview, y'know? I swear, people don't see de value of de small things.
(HHH): What do you think of music these days? What is a trend you would like to see disappear and never come back?
(EM): Well, I would like to see the bullsh*t trend end. Artists nowadays, dey like…
(HHH): Give me an example of a bullsh*t artist.
(EM): I'm talkin, you got a lot of people who say dey are artists…but how are you an artist? I mean if you record it and your ten friends like it, it's nice, but you say, 'Oh I'm hot," I mean, come on. We are talking about people loving you from de heart, supporting you, paying their money to come see you, respecting you for what you were gifted for. I'm not fighting against nobody, but if you gon do it, do it really well. Don't fu*king try to bullsh*t me.
(HHH): Your favorite movie of all time?
(EM): Batman. Batman Superman.
(HHH): What is the hardest thing for you about being on tour?
(EM): The hardest thing for me is to maintain my daughter. She stress me, but I gotta put up with it. Right now, she sleeping.
(HHH): Alright, and one more quick question for you. Legalization of cannabis is a big issue here in Canada right now. How do you feel about legalization versus decriminalization, and what words would you have to us as the public for a responsible decriminalization process?
(EM): Legalizing the weed is the best thing de have ever done. And, you know, like, I don't have a problem with the weed. That's natural. That was dere from King Solomon days. That was given to de people from de Almighty, so why you gonna hide it from de people? Let de people enjoy. It can cure, it can do a lot of stuff, so it must be something good why dey making a big fuss. So, all I'm saying is just let what the Lord give to de people, stay to the people. Straight up.
(HHH): Those are my questions, thank you so much for your time. I'm with Tuff House, Tuff Urban Magazine, which launches next week. June 16th.
(EM): Big up Tuff Urban Magazine.