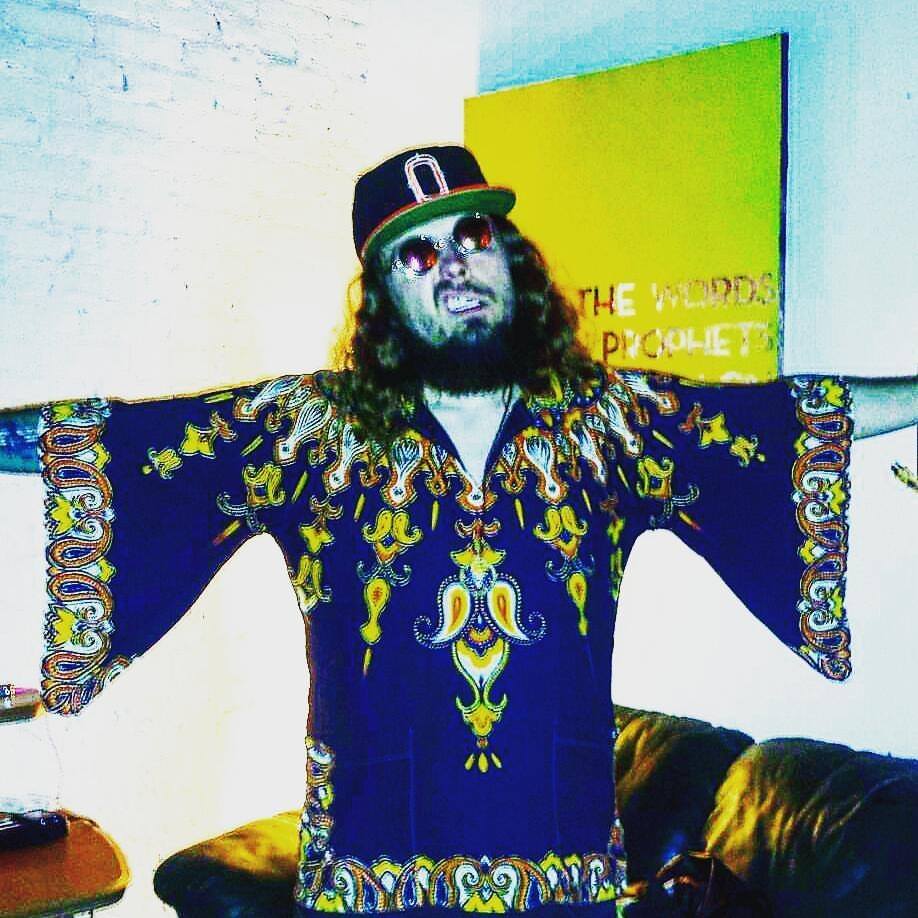 I'm incredibly privileged to be able to call Komrade my friend in real life, and it's my honor to crown him the very first Hometown Hero here at the Hedonist. Born and raised in the 780, Komrade is a fixture in the scene and the community. He's 1/2 of the Brothers Grim and the Baxwar Division Leader, and holds it down as a promoter with his company, Future is Grim. 
 As a rapper, Kom delivers grimy vocals with thoughtful lyrics and difficult flows, which makes for a gritty sonic experience that leaves listeners wanting more. As a performer, his larger than life stage persona gets the crowd hyped up every single time, and it's been a lot of fun for me as both a fan and a friend to see how many more middle fingers hit the air every single time I see him perform. 
 Komrade puts in more time, effort, blood, sweat, tears, stress, and love to the Edmonton hip-hop scene than most people put into…well, anything. This is mirrored through the work he puts in  at his "real job," where he's much more than a library technician; rather, he's a mentor, a helping hand, and a smiling face to everyone he sees, regardless of their position in life. I'd like to extend the most immense gratitude to you, Kom, for everything you have done and continue to do for everyone in your life. We are all immensely proud of you and can't wait to see what the grim future holds for you professionally and personally!
 Komrade tours with the Brothers Grim, Alpha/Omega, and Ad-Lib for the Rebel Hippies Canada Tour kicking off May 5th. Stay tuned for contests and giveaways on hiphophedonist.com!
Rebel Hippies Canada Tour Dates:
5•5 Victoria BC @ Upstairs Nightclub
5•6 Vancouver BC @ Fortune Sound
5•7 Surrey BC @ Peacock Bar & Grill
5•8 *Chief and Greet @ Marc Emery CannibisCulture. Vancouver BC
5•11 *Chief and Greet @ SaporVape Edmonton AB
5•12 Unity SK @ Unity Bar
5•13 Red Deer AB @ Wild Bill's
5•14 Edmonton AB @ DV8
5•15 North Battleford SK @ D Pool Room
5•16 *Chief and Greet @ Vape Escape. Calgary AB
5•17 Lloydminster SK @ Amigos Lounge
5•18 Saskatoon SK @ Vangellis
5•19 Regina SK @ Artful Dodger
5•20 Brandon MB @ Houstons
5•21 Winnipeg MB
5•23 Thunder Bay ON @ The Westfort
5•24 Timmins ON @ The Working Class
5•26 Montreal QB @ Club Lambi
5•27 Cornwall QB @ Mason
5•28 Quebec City QB @ Shack Resto-bar
5•29 Kingston ON @ Overtime Sportsbar
*Chief and Greet at 710 Smokeshop.
5•30 Oshawa ON @ Jimmy O'Tooles
5•31 London ON @ The Grinning Gator
6•1 Cambridge ON @ Kiwi
6•2 Toronto ON @ Rockpile
6•3 Barrie ON @ The Fox
6•4 Sarnia ON @ Station Music Hall
6•5 Windsor ON @ The Players Club
Make sure to like Komrade, The Brothers Grim, and Future is Grim on Facebook!
*NOTE: THIS ARTICLE ORIGINALLY APPREARED IN THE MAY 2016 EDITION OF THE HEDONIST. REPUBLISHED IN CONJUNCTION WITH http://www.hiphophedonist.com